SC-200 AC LVDT Signal Conditioner Product Overview
The SC200 LVDT Signal Conditioner from Alliance Sensors Group, a division of H.G. Schaevitz LLC, utilizes highly advanced smart electronics for easy setup and operation. The Signal Conditioner is compatible with a wide range of LVDTS, RVDTS, and Inductive Half-Bridge Sensors specific to industrial applications.
SC200 LVDT Signal Conditioners are DIN rail mountable and feature color-coded removable screw terminal blocks for ease of wiring. Calibration is simplified using the intuitive zero and spanned push buttons and null indication LEDs, substantially reducing set-up time.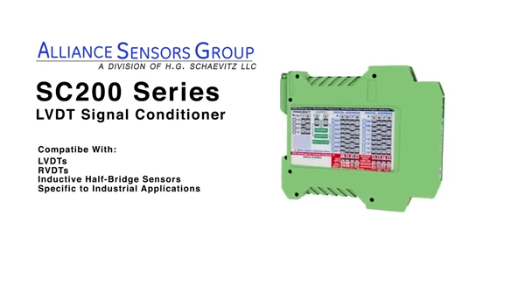 The user selectable settings for the SC200 LVDT Signal Conditioner include a choice of: 4 excitation frequency values, 3 sensor voltage excitation values, 8 analog output ranges, 16 selectable RS-485 addresses.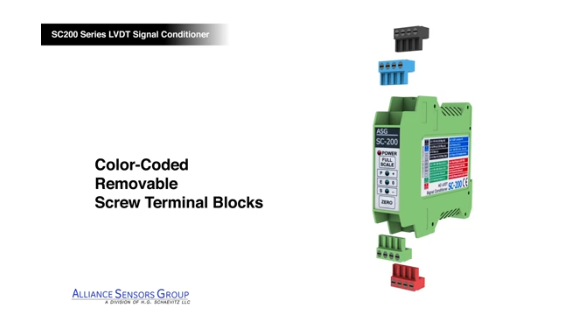 Some additional features of the SC200 LVDT Signal Conditioner include Auto Master syncing to reduce crosstalk, Fault Failure detection and notification, Hot-Swap functionality, and Cyber Security Lock Tamper Prevention.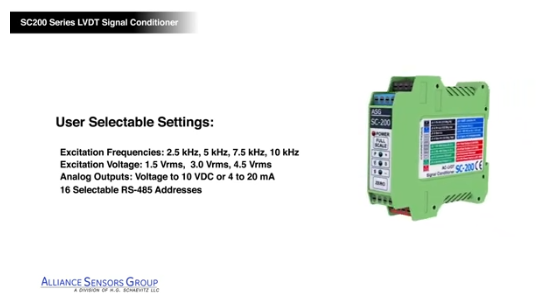 SC200 LVDT Signal Conditioners are powerful, intelligent devices making them an ideal solution for your demanding application. Alliance Sensor Group's experienced application engineers are standing by to help you solve your measurement challenges. For more information visit us at AllianceSensors.com.